Pope Benedict XVI to Join Twitter
Pope Benedict XVI will join the micro blogging and social networking site Twitter to communicate and reach more catholics, as announced by a Vatican official although there is no date revealed yet as to when the account will be activated and officially start tweeting.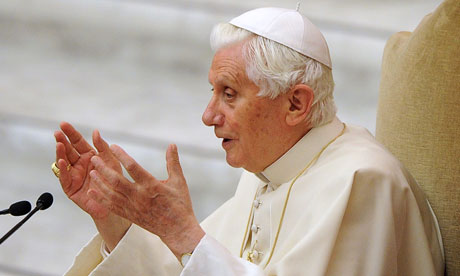 Image Courtesy of The Guardian
Head of the Vatican's pontifical council for social communications, Father Claudio Maria Celli said that Pope's tweets can be reformulated, redistributed, relaunched and disseminated. Moreover, the Father said, "In this sense it is like the gospel, a small mustard seed that once scattered grows into bushes where birds can rest."
The Vatican is not actually new to using the internet in reaching its people and spreading the gospels of God. It may be remembered that the first
Pope
has launched a YouTube channel in 2009 and encouraged priests around the world to also engage in blogging and use social media sites in communicating with congregants along with the existing means of communication.
Pope followers though should expect that not all tweets to be published will always come from the Pope himself but all tweets will undergo his approval.
Update: I searched Pope Benedict XVI on twitter and here are the results: